If there's one thing that's more important than anything else for video journalists when creating stories, it's a need for speed. Every step of the process must be done as quickly as possible. As soon as you let up for one minute, another journalist has already gone to broadcast.
With a 24-hour news cycle and deadlines nipping at your heels, video journalists need to be as fast as possible. . You're always looking for new story ideas and trying to produce them before anyone else does; meanwhile, you're storyboarding for one project, manually transcribing an interview for another project and fact-checking a third - all at the same time.
Our eyes are going crossed just picturing this.
There are parts of the journalist workflow that can easily be automated, saving time and helping to not only produce stories faster, but to produce more stories. Journalist-focused technology is a way for a lot of the work journalists do to happen much faster than traditional methods, or to be 100% automated.
The post-interview period is one area that can quickly be cut down. There are plenty of ways to make this period of time happen very fast, with minimal effort.
Here are our top time-saving tips to go from interview to live story in no time. Prepare to launch into journalist efficiency hyperdrive.
Automate saving of interview files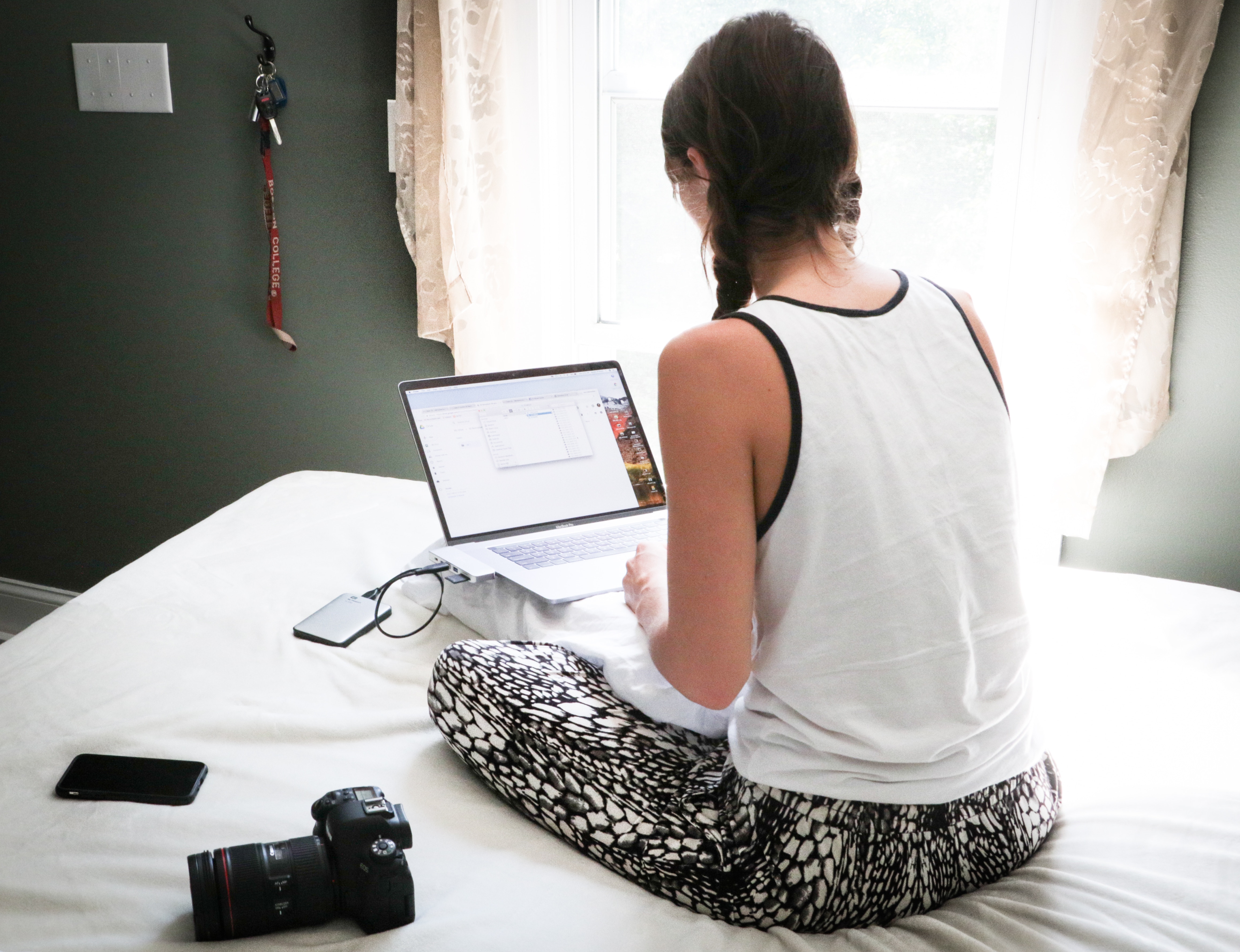 Before you even start asking questions, you need to put a lot of time into your news story. You need to find people to interview, figure out a way to get in touch with them and schedule an interview (that is, if they're willing); then you have to source a location for the interview; next you need to get your film crew together; writing a list of interview questions is next, followed by your shot list.
And only then are you ready to start interviewing.
Following the interview, you're on your way back to start editing, you reach into your pocket and you've lost the memory card. Now what?
Backing up interview video files isn't the most exciting step in the process, but surprisingly there are some fun ways that modern technology can be used to save digital audio and video files so they're back up as soon as you exit the room.
From SD cards to mobile devices, there are easy solutions to auto-save your video interviews:
Use a wifi-enabled

mobile wireless drive

to backup video interviews
If you film your news interviews on a camera with an SD card, just pop the card into a mobile wireless drive that's wifi enabled. As long as you have wifi or 4G, your files will automatically be sent to the cloud of your choice for safekeeping, meaning you've got the file stored both on the hard drive and in the cloud. That's three storage locations, which makes it three times easier to relax post-interview. And if your editor is waiting back in the office, they can start work on it immediately.
Auto-save video files to a mobile device
Mobile phones with high-quality cameras mean you can record HD video on the go - and luckily those video files are easy to automatically back up. There are quite a few easy, free apps that do this. The most well known are Google Photos and Dropbox, but there's a long list of Android and iOS apps to choose from. As with the previous tip, you'll need a strong connection to 4G or wifi.
Convert video to text using a mobile app
Breaking news: manual transcription is not good for journalists. It's expensive and takes too long to work with the rapid pace of the news cycle. Any journalists still using humans to type their files or typing video files themselves need to embrace the new kind of transcription: artificial intelligence.
There are a lot of benefits that come with automated transcription - in fact, too many to name here. But now that AI transcription software is available on an iPhone app, converting video interviews to text files has never been easier, and it offers journalists a way to get their work out fast.
Trint's transcription app for iPhone is an efficient way for journalists to record interviews on their mobile and send them for transcription. With just a tap you can start recording in the Trint app. When the interview is finished, use the app to upload the audio directly to Trint. The audio is converted to text in less time than the length of the interview, then view the transcript from your iPhone or from a desktop computer. You can even use the web-based Trint Editor to change the timecode of the transcript to sync to the interview video file.
Automated transcripts also make it simple and fast to find the best sound bites for the final cut. Use Trint's Find & Replace feature to search for key parts of the interview - no scrubbing through hours of footage to find a single quote. Then highlight the sections of the interview you want to edit into the final piece and Trint shows you each highlighted section's time as well as the combined length of all the highlights. Finally, export just the highlights for your script edit of the final video piece.
Create snack-sized portions of your video content
Cutting your video into smaller portions makes it extra easy to consume. There are lots of different channels where it can be promoted, one of the primary being social, and the more options you have for size the better.
But the prime time to cut this isn't after you've finished editing the final video. It's before.
Use social channels to tease your audience with select portions of your video interview content: before editing together the entire piece, create a few bite-sized video clips (5 - 20 seconds each) that you can drip-feed to your audience before your video goes to broadcast. These clips lead-up to your video going live and will generate interest among your social media followers. If your video is published online, use these smaller cuts to get more viewers in online channels for a long time after your video content has been released.
--
Making the steps of your workflow happen automatically will be a big time-saver for the way you produce video. Like magic, your work happens almost entirely by itself, leaving you more time to do what you're good at: producing engaging, beautiful content.
For more ways to find efficiency as a video journalist, download our eGuide: 6 Ways Journalists can Save Time and Still Tell Better Stories.
Michael Nelson-Wolter, Marketing Manager
Michael worked for 8+ years as a manual transcriber in the US and UK before building an in-house transcription department for a mobile-to-web software company. He then moved to content marketing, followed by digital marketing. Michael loves to write about emerging technology, digital trends and the ways technology makes our lives easier.