Trint, global leader in AI transcription, tested 11 UK politicians (and 2 special guests) for speech accuracy
The next time you're at a dinner party in the UK and want to ignite a flurry of passionate conversation, all you need to do is utter one word to get a heated discussion started: Brexit.
Just make sure you've cleared your calendar for the rest of the evening.
The political atmosphere in the United Kingdom over the past few years has been, well, eventful, to say the least. Not only did the UK vote to leave the European Union in 2016, but there was the proposed Scottish referendum in 2014, then the General Election of 2017. UK politicians have had plenty to talk about.
With all the debate flying around places like the House of Parliament, you'd think most elected (or not elected) officials like Theresa May, Nigel Farage and Nicola Sturgeon would want to make absolutely sure they get their message across with clear, accurate speech. But as we saw with the US Trint Index, some politicians speak a lot more clearly than others.
When it comes to the UK, which politicians speak as well as the "Baked Bean" and which "'aven't got a Scooby"?
How the Trint Index is calculated
We chose 11 political figures in the UK (as well as a couple special guests) and dropped them into Trint's AI transcription software, which uses automatic speech recognition (ASR). Then we calculated the word error rate (WER), which compares a 100% accurate transcript of the person speaking to the transcript from Trint, to see how each person scored. Each politician's score tells us how accurately the software transcribed the person's speech, and the WER tells us how often the ASR software had difficulty understanding what they said.
The most important point to note is the high level of accuracy available from AI transcription. Trint achieved startling accuracy with the politicians' speech - accuracy that wasn't possible even five years ago. As time goes on, automated transcription software will continue to improve in accuracy and improve the accessibility and reach of politics as well as journalism, marketing, education and many more industries.
The results are in!
What better person to lead the Trint Index UK than the leader of the United Kingdom? In first place was Prime Minister Theresa May, who scored 98.25%. That means only 1.75% of the words she spoke couldn't be understood by the AI bots. Perhaps being criticized for a robotic speaking style - earning her the nickname "Maybot" - isn't such a bad thing.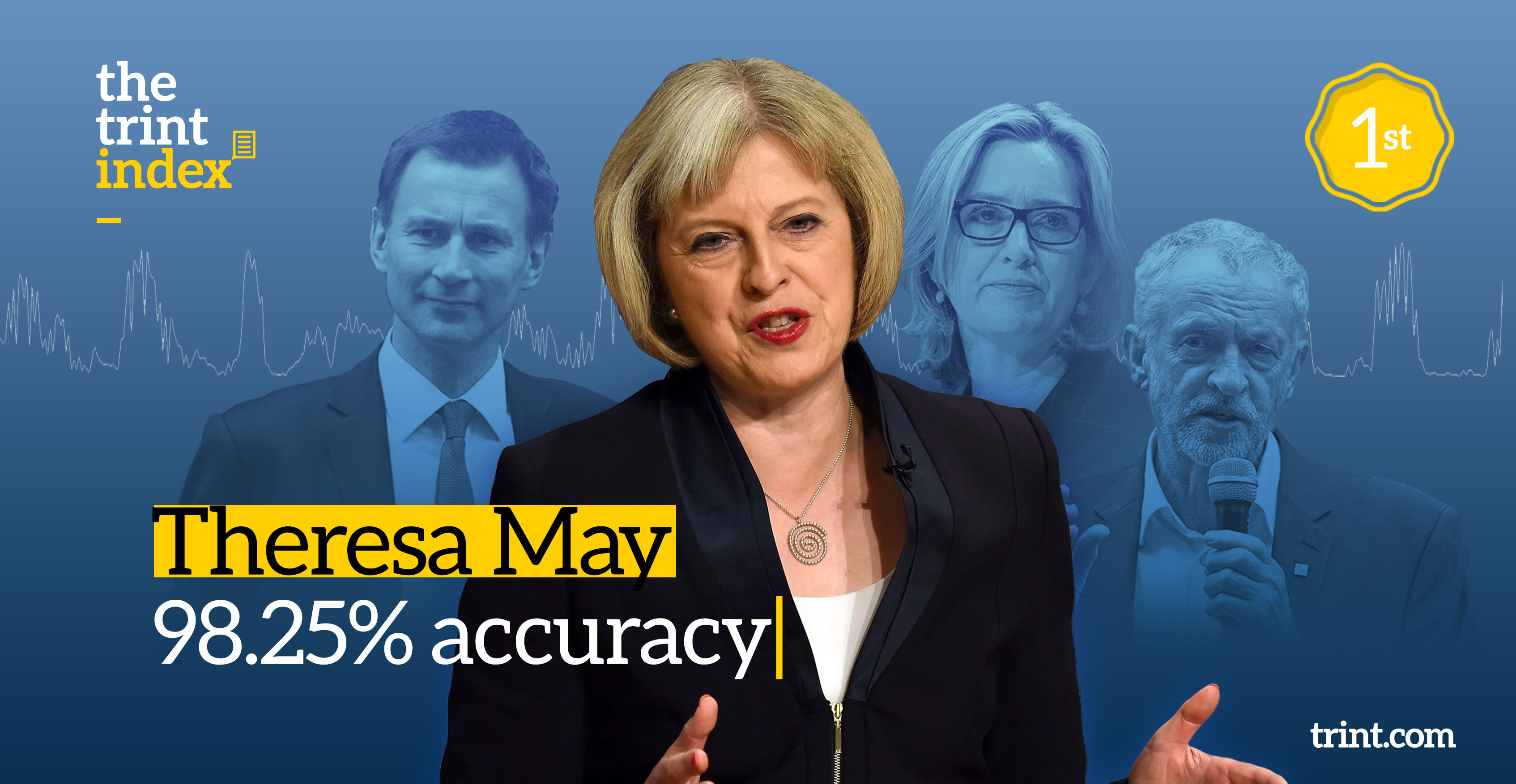 Compare May's results to US President Donald Trump, who came in 11th place in the Trint US Index with a score of 97.89%, and we can see May's speech was understood slightly better than Trump's.
In second place was Jeremy Hunt, who scored 97.58% - almost exactly the same as Senator Elizabeth Warren, who came in 12th place in the Trint US Index. Following Hunt were Jeremy Corbyn and Amber Rudd, who tied for 3rd place with 97.49%; Vince Cable in 5th at 97.72%, and Arlene Foster in 6th place with a score of 96.9%.
A few key things can affect the accuracy of an AI-generated transcript. For instance, if the recording environment is noisy or the speaker is interrupted by things like applause or crowd noise, AI software can't accurately hear what the person is saying. And sometimes people's speaking habits can affect the accuracy of a transcript: many of us, politicians or not, swallow our words or drop the last word in a sentence, which results in a higher WER.
Some results of the Trint Index UK were surprising. Queen Elizabeth - who speaks with Received Pronunciation (RP), an accent associated with high, well-educated classes and formal speech - came in 9th with a score of 95.19%. The reason for her WER is probably that she doesn't speak with the accent most people speak with today: although considered the standard dialect in Britain, only 3% of Britons are RP speakers. Although Queen Elizabeth speaks very clearly, she doesn't speak like the majority of modern British people.
Another interesting result was Piers Morgan, who came in 13th (last) place with a score of 82.25%. This was based on a Good Morning Britain segment during which he frequently spoke over and interrupted guests, something for which he's notorious. Just like humans, AI transcription software can have difficulty understanding what someone said when another person speaks over them.
Here's a list of the full results:
Trint's transcription software "trumps" other transcription services
AI transcription is the cutting edge of transcription: with reasonably good audio, the accuracy rate tends to be 95% or above, as we saw with Theresa May, and transcripts are produced in less time than the original audio file.
To find out how you measure up against Theresa, Donald and the others start your free trial with Trint.
Michael Nelson-Wolter, Marketing Manager
Michael worked for 8+ years as a manual transcriber in the US and UK before building an in-house transcription department for a mobile-to-web software company. He then moved to content marketing, followed by digital marketing. Michael loves to write about emerging technology, digital trends and the ways technology makes our lives easier.